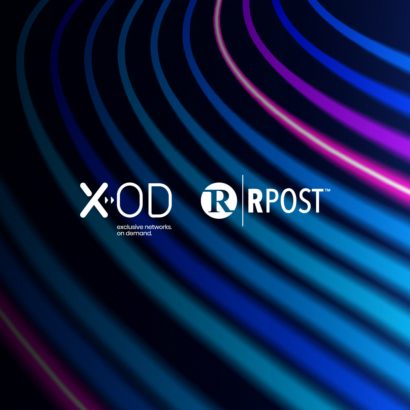 RPost's Innovative Email Eavesdropping™ Detection, Certified Email Compliance, Document Security, and eSignature Solutions are Now Accessible Worldwide via Exclusive Networks' X-OD Platform
Los Angeles, California and Paris France – 3rd October 2023: Exclusive Networks, a globally trusted cybersecurity specialist for digital infrastructure, today announced the inclusion of RPost® into its best-in-class portfolio of cybersecurity services available via X-OD, its innovative subscription-based consumption platform. Exclusive Networks will offer RPost's outbound email security and security-centric content protection and productivity solutions:  RMail (AI-driven Email Eavesdropping detection and certified email services), RDocs (document-centric rights management services), and RSign (eSign and eForms enterprise workflows solution).
"We at RPost share the same customer philosophy as Exclusive Networks teams; we both believe the technologies we provide as a service are great, but they are better when served by people who care to serve, who can help MSPs to help their clients get the most value from them. This is what we do. This is how Exclusive Networks does it," declares RPost CEO Zafar Khan. "We know the technology environment is getting more complex from a security, compliance, and business operations perspective – many clients today are looking to their MSPs to bring them the best point solutions to solve specific needs. The addition of RPost to Exclusive's portfolio gives its partners an additive solution set that does not overlap with others in their marketspace."
One of the unique RMail solutions that Exclusive Networks will focus on bringing to partners through its offices in over 47 countries worldwide is the RMail Business Email Compromise features that centre on detecting email accounts that have already been compromised within the sender OR recipient organisations. This alerts financial services, real estate, legal/escrow, and generally any company that sends substantial invoices, if payment-related information that they send is being actively eavesdropped on by cybercriminals after delivery to recipients with intent to lure recipients into mis-sending funds. This enhanced RMail AI lets customers fine-tune the detection technologies and who is alerted when closing funds or payments are about to be hijacked, before the steal.
"The integration of RPost into the X-OD portfolio opens a world of opportunities for our partners," said Denis Ferrand-Ajchenbaum, SVP Global Business Development & Ecosystems at Exclusive Networks. "RPost's unique ability to detect when cybercriminals are already lurking and monitoring sensitive email outside of the sender's perimeter even at the recipient's inbox is a missing piece in today's BEC prevention toolkit. Now we are arming our MSP partners everywhere with the latest AI-security-centric tools from RPost. We believe this will bring immense value to our partners and help their customers in navigating the digital world more securely and efficiently."
For VARs and MSPs, the partnership offers numerous benefits, including implementation flexibility, a breadth of services, higher margins, revenue recapture, dedicated partner success managers, marketing support, and unmatched customer satisfaction.
These RPost services – from RMail to RSign to RDocs – run inside Microsoft Outlook, Google Gmail, among other platforms, and may be enabled in the ether as an additional outbound email cloud-gateway routing. These services do not interfere with but rather complement existing email clients, security gateways or inbound email security services.
For more information about RPost, visit RPost.com. For more information about Exclusive Networks' subscription-based consumption platform, visit x-od.com.
About Exclusive Networks
Exclusive Networks (EXN) is a global cybersecurity specialist that provides partners and end-customers with a wide range of services and product portfolios via proven routes to market. With offices in over 47
Countries in 5 continents and the ability to serve customers in over 170 countries, we combine a local perspective with the scale and delivery of a single global organisation.
Our best-in-class vendor portfolio is carefully curated with all leading industry players. Our services range from managed security to specialist technical accreditation and training and capitalise on rapidly evolving technologies and changing business models. For more information visit www.exclusive-networks.com.
About RPost
We're the global leader in premium, feature-rich and more affordable eSignature and cybersecurity services, and we've been continuously innovating for our customers the world over since 2000. From within our three main platforms: RMail email security and compliance, RSign eSignatures and RDocs document security and intelligence, we're everything our customers need when it comes to email, document and form security, compliance, and workplace acceleration — track, prove, eSign, encrypt, share, certify, control. We do what no other company does — all in one.
We thrive on ensuring that we are artisans and experts in everything we do: secure and certified email encryption for privacy and compliance; eSignatures and web forms to ease digitization of workflows; e-delivery tracking to prove important communications; managed file transfer to simplify secure sharing of large documents and sets of files; document-level digital rights management to empower control of document access even after transmission; and AI-infused apps to prevent data leaks by minimizing human e-security errors. This is why more than 25 million users have enjoyed our RMail, RSign and RDocs services for over two decades across 193 countries. Learn more at the RPost website.